VERS-O-WELD 8040

is one of the sleekest and most versatile AUTOMATIC WELDING & SURFACING SYSTEMS in the world. It offers various overlay options without compromising precision. The best feature of the VERS-O-WELD 8040 system is that it offers various options for mounting the welding head and the wire feeder. The welding head can be mounted by keeping the beam stationary and allowing the carriage to move or by keeping the carriage stationary and allowing the beam to move. This makes the VERS-O-WELD 8040 ideal for a variety of welding and surfacing applications and makes it unique.
Other features and options of the system are

Extremely lightweight, easily portable
Easy to assemble and dismantle
Wire feeder mounting options
Can weld with a range of wire sizes
Operator-friendly
Easy to maintain
Hand-held Pendant option
Customized options available
Submerged arc welding attachment
Flux recovery unit for submerged arc welding
Fume extraction system for welding head
Chiller for cooling welding torch
Optional attachments are available for gas-shielded welding & submerged arc welding.
VERS-O-WELD 8040 D Series
Ideally suited for welding of steel mill rolls, in-situ or in-shop welding of cement mill rolls and tables.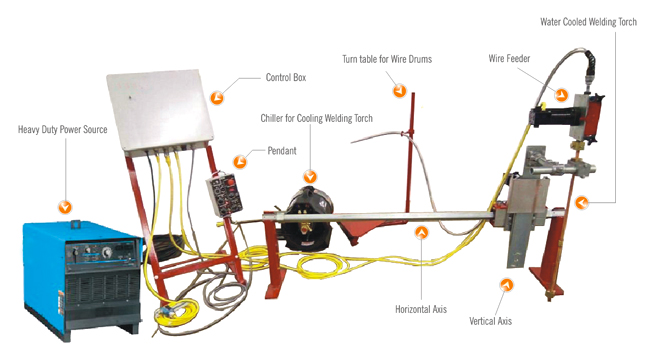 VERSATILE AND RELIABLE AUTOMATIC WELDING AND SURFACING SYSTEMS FOR REBUILDING:
Flat and Cylindrical Surfaces
Steel Mill Rolls
Cement & Coal Pulverizer Rolls & Tables
Wear Plate Manufacture
Sugar Mill Rolls

| | |
| --- | --- |
| | Profiles & Patterns |
| | Internal Cladding of Pipes |
| | Screwflights |
| | |
VERS-O-WELD Single axis series
Single axis system for shop fabrication and repairs
Linear or stepping option
Longer beam length option
Wire feeder mounting option
Standard and cantilever torch mounting

VERS-O-WELD Twin axis series
Twin-axis system for shop and site fabrication and repairs
Options of standard and cantilever arrangements
Longer beam length option
Welding of grinding mill rolls and tables at site
High and low profile wire feed set up

Standard Arrangement
Standard Arrangement
Cantilever Arrangement
Cantilever Arrangement
Please Consult for Customized Equipment
Cladding systems for other applications
Refurbishing Steel mill rolls
Optional Extras
Submerged Arc Welding Attachment
Flux Recovery Unit For Submerged Arc Welding
Fume Extraction For Welding Head
Chiller For Cooling Welding Torch